Rice and Lemon-Pepper Tilapia
Sometimes, food for thought aint enough! 
      Before I begin I must warn you, none of these recipes use exact measurements. I learned how to cook through trial and error whenever I was home alone because I couldn't go get missing ingredients for recipes so I figured I couldn't use them. Don't worry though! This style of cooking allows for extreme variations in quantity, which means that you can't really have too much or too little of anything! Without further ado, here is the recipe for Rice and Lemon-Pepper Tilapia.
Ingredients:
Tilapia filets (3-6)
4 zucchini (or yellow squash)
2 bell peppers (Red or orange)
8 oz mushrooms
Spinach
2 tablespoons of butter (or cannabutter)
Hella lemon pepper
Red-pepper flakes (optional)
Garlic
Rice
Salt
Onion flakes (or diced onion)
(Utensils)
Large pan
Medium pan
Medium pot
Wooden spoon
Tablespoon
Olive oil
Instructions:
1. Fill medium pot 2/3 full with water. Add salt and bring to rolling boil on high heat.
2. After rinsing, dice zucchini (or squash) and chop red pepper and mushrooms as water comes to a boil.
3. Add a small amount of olive oil to medium pan. Heat on medium-high for 1.5 minutes and then add the zucchini, pepper, and mushrooms. Salt and stir periodically.
4. Add rice to water and reduce heat to simmer. Leave about a 1-2.5 inches of water above the rice. Continue to next step while allowing rice to cook for 7 minutes. (After 7 minutes, you will add spinach to the rice and cook it for an additional 5 minutes.)
5. On medium high heat, add butter (or cannabutter) and a small amount of water to large pan. Add garlic, salt, lemon pepper, onion flakes, and red pepper flakes, then stir.
6. Once the butter has melted, add tilapia filets to the large pan. Leave on medium high heat and flip after 5-7 minutes. The fish will be cooked after 5-7 minutes on each side.
7. Check on rice. Add spinach if it has been 7 minutes since adding the rice to the water.
8. Geeb.
9. Once rice and fish are finished, turn off all burners. Serve the vegetables and fish with butter sauce over the rice and spinach. 
10. Enjoy!
Pairs well with moscato and cannabis.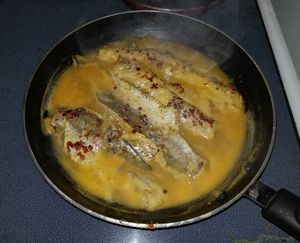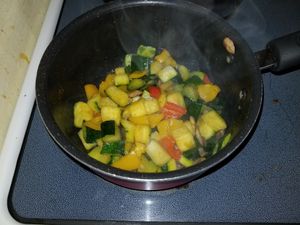 Did you try it out? Post your pictures and reviews in the comments!